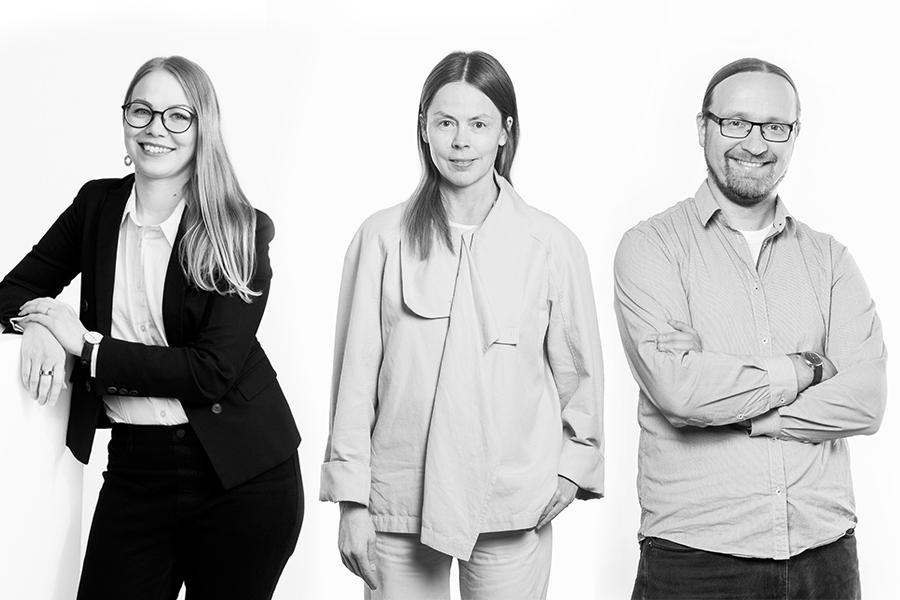 The Newil&Bau team is growing
Since the start of the new season, the Newil&Bau team has grown to 19 people, and the great bunch of new talents have been brought in to ramp up the company to the next phase of its journey. Welcome to the N&B team: Liisa, Niklas and Pia!
Our product and technology team has been strengthened by two experienced professionals. Liisa Stenberg has taken up her duties as Design Lead at Newil&Bau. She is responsible for the design of our digital services and products, design management and the development of design and service design expertise. Liisa came to Newil&Bau from Sanoma Media Finland. She has over ten years of experience from service design, design, conceptualization, consulting and marketing of digital products, platforms, applications and online stores. Previously, she has worked for mobile and digital services consulting house Qvik and digital marketing agency Nitro. Liisa has a Bachelor's degree in Media Arts.
Niklas Collin has started at Newil&Bau as Tech Lead. He is responsible for our technology choices and architecture, and works also as a software developer. Niklas has a Master's degree in software engineering and over 15 years of experience as a developer. Niklas came to Newil&Bau from Thoughtworks where he worked as Lead Solution Architect. The company acquired his previous workplace Fourkind, where he was a partner. Before this, Niklas has worked as Senior Software Developer at Europe's leading e-commerce company Zalando, and as Software Architect at Solita.
Pia Sievinen has taken up her duties as Communications & Content Manager in our marketing and customer experience team. Pia is responsible for Newil&Bau's communication and contents and the development of communication. She has a Master's degree in economics, and has over 20 years of experience from marketing communication and content development. Prior to joining Newil&Bau, Pia worked for A-lehdet where she was responsilble for B2C marketing. Previously, she has worked with Habitare's marketing at Messukeskus Helsinki and in various roles in the areas of marketing communications and media.
"It's great to have more top professionals of their own areas in our team who share our high ambition and passion for creating the most compelling brand for new-built based on customer needs. Liisa, Niklas and Pia all bring their important addition to our team, as we strengthen the creation of a comprehensive living experience and the competitiveness of our company," rejoices Newil&Bau CEO Petri Ylivuori.