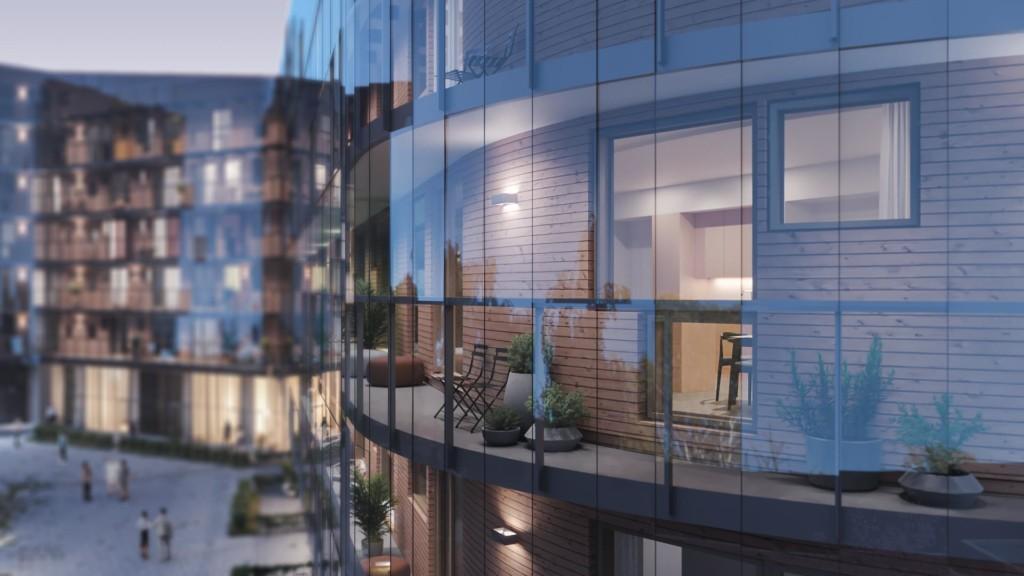 Meander in Töölö attracts attention
Meander, a new construction project which was designed by Steven Holl (known for his work on Kiasma) and which will be built in Taivallahti, Töölö and will express the Newil&Bau construction philosophy, has attracted strong attention. There are already over 2,500 people on the list of advance reservations. The return of high-quality architecture to Helsinki clearly interests people when it is combined with modern design and distinctive residential services.
After the information about Meander was made public in June, the further planning for Meander has progressed in cooperation with Steven Holl. Ark-House Architects act as the partner of Newil&Bau and Steven Holl Architects in Finland. The facade of Meander has a wooden cladding supplemented by a glazing that surrounds the facade. The shape of the building brings to mind a meandering river. Buildings designed by Holl are pieces of art, and his interest in Alvar Aalto's work and fine arts in particular has had a momentous impact on his career.
"I first visited Helsinki in 1991 on a trip that allowed me to familiarise myself with the work of Alvar Aalto. I was interested in Aalto as a painter and when I visited Aalto's vacation home in Jyväskylä, I met Elissa Aalto. When I asked her about Aalto's paintings, she showed me the last oil painting that was still in the building. It was a significant moment in my career. At that moment I understood that architects must also be artists and that Aalto truly was an artist!" Holl says.
The Meander floor plans were released on 16 September to those who had registered as holders of advance reservations.
"The idea was to build a house that did not resemble a square in any way; therefore, I chose the shape of a meandering river whose curving body would form spaces both inside and outside the building. Another idea was to slowly increase the scale of the house, from the low end to the height of the neighbouring house, all the way to the sea view. It also provided us with the opportunity to have different kinds of apartment types," Holl elaborates.
There are four types of apartments available in Meander: compact city apartments, spacious family apartments, executive homes, and loft apartments that are six metres tall and have their own yard.
"I like the fact that the apartment selection includes apartments of different sizes. Not just luxury apartments," Holl says.
Architect Steven Holl is known for his love of light, which is present in the outside look of Meander. Additionally, special attention has been paid to the lighting in each apartment. The airy staircases of the apartments have atmospheric, indirect lighting and some apartments have a sunset view in the bedrooms
Taking residents and interior design into account
There are four different interior design concepts from which the future Meander residents can choose the one that is right for their apartment. The Newil&Bau decoration themes have been updated in cooperation with the interior architecture agency Fyra. One of the concepts is one of a kind. It is called Unique, it is inspired by Steven Holl's architecture and it has been designed for Meander. The other concepts are White, which expresses Scandinavian minimalism, Soft, which is the warm combination of grey and beige, and Wood, which is full of vivid wooden tones.
The environmental friendliness of Meander, which was built to be communal and resident-oriented, speaks for itself. By using optimised design solutions and a 100-year-old frame, Meander's carbon footprint is less than half of the carbon footprint of buildings constructed with the more ordinary methods. The building, which is of energy category A, provides its residents with geothermal heat, a green roof, and solar panels. The apartments also have underfloor heating and enough storage space in relation to the apartment type.
Meander's functions reach even underground. The building's yard deck is car-free, and a garage equipped with 76 parking spots, readiness for electric charging, and community cars will be mined into the plot. The housing cooperative's own movie theatre and wine cellar will also be located underground.
Since Meander pays attention to its residents, the building also has a sauna equipped with an outdoor terrace, an event space, facilities for remote working, a yoga room, and communal bicycles and a maintenance point for bicycles.